gleem – a food startup with its own production kitchen
The history of many food startups starts in the kitchen at home. That's where the first ideas and recipes are born, but when commercial success sets in, things soon become too tight. Now what? Anna Gliemer, founder of gleem, has built her own production kitchen. Other startups are also welcome – as long as they operate gluten-free.
Since 2009 Anna Gliemer, who studied business administration and worked in the marketing department, has been consistently eating gluten- and sugar-free. However, she didn't want to go without pralines and other confectionery. So she created tailor-made sweets. First for herself and soon also for her circle of friends. In 2015, she opened an online shop named gleem, to test whether her unusual confectionery could also be enjoyed by a larger audience.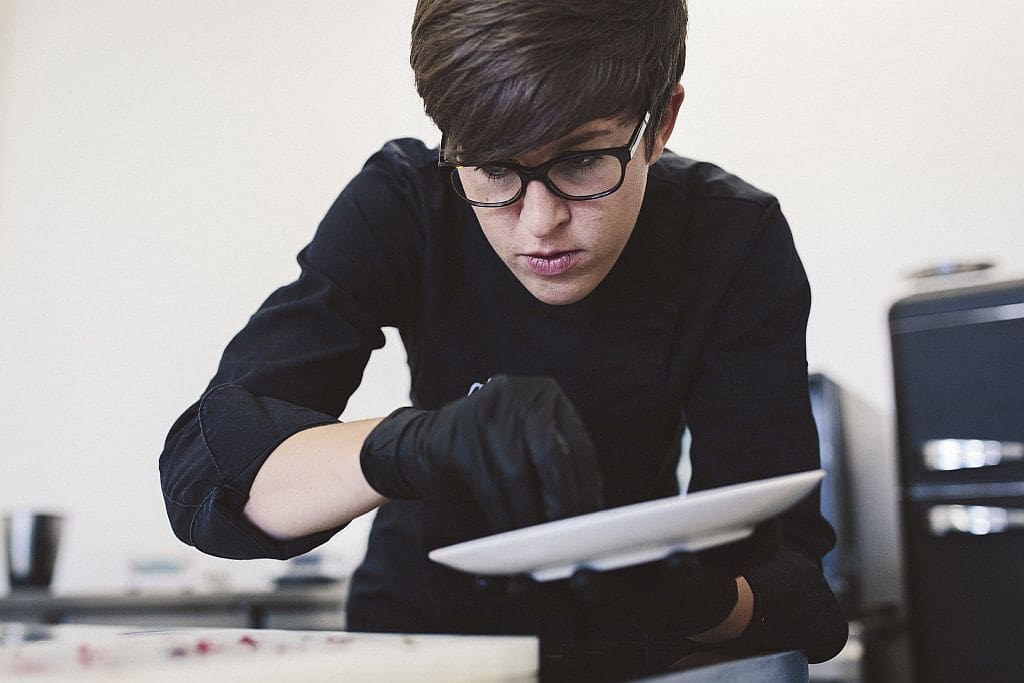 She was successful and nowadays offers a wide range of sweets. The classic are the chocolates without flour, milk or egg. Fresh fruits or regionally produced honey are used as sweeteners. The honey is also included in the chocolate with cocoa from the island of Bali. Other specialities are vegan brownies, which are not baked and are therefore also called rawnies, and various tartlets and tarts, of which some contain zucchini as the main ingredient.
Team and production flexibility
Anna placed her offer on an even wider basis with the catering service THE FOOD by gleem. This is where hearty food is also served. As usual, the ingredients are gluten-, sugar- and lactose-free, as regional and seasonal as possible and largely vegan, apart from honey. Most of the time gleem is a one-woman business. Depending on the order situation and project, Anna flexibly books two to three extra people.
Flexibility is also an important keyword when it comes to food production. For many food startups, the search for the right production facility is a major challenge. For a while, gleem found shelter at the colleagues of Vincent Vegan, specialists for vegan fast food, but this proved to be not a permanent solution. So Anna decided to set up her own production kitchen.
From a prop warehouse to the production kitchen of gleem
She found what she was looking for in a former props warehouse in the Hamburg district of Veddel. There Anna has 75 square metres at her disposal. She started with a few used tables and gradually put together the necessary equipment. Since Anna lives economically, she was able to finance everything from her own money and did not have to take out a loan. She invested between 25 and 30 thousand euros in the kitchen over a period of five years. The showpieces today are a large oven and a professional hood dishwasher. A warehouse with a freezer is also part of it.
Once a year, the public health department comes by and checks whether everything is in accordance with the regulations. There is also an annual inspection in connection with the bio-certification. The production kitchen can be booked much more frequently for workshops and private master classes. And subtenants are also welcome, as long as they work gluten-free. They can use the existing equipment and bring their own.
Subtenants are welcome at gleem
In the past, Popkon (unusual varieties of popcorn) and elikat (cake in a jar) have done that. Both food startups are unfortunately no longer active. Currently natu-rasia (fruity sambals) and the Vanille Shop occasionally use gleem's kitchen. Through the multiple use of her production facility, Anna earns welcome additional income.
But that's not everything. For a couple of weeks now, gleem has had a small stand in Hobenköök, a culinary meeting place in Hamburg's Oberhafen with a restaurant, market hall and catering. The demand so far exceeded expectations, customers come there specifically to buy the delicacies, that are otherwise not available in a shop. For the summer, when gastronomic establishments are hopefully allowed to open again, pop-up restaurants with complete meals are also planned, sometimes for a day, sometimes for four weeks. With gleem, many things are possible – and everything is gluten-free.
All photos: gleem
https://foodinnovationcamp.de/wp-content/uploads/2020/04/Gleem_Christopher_Große-Cossmann-65.jpeg
853
1280
Sarah Kondratowicz
https://foodinnovationcamp.de/wp-content/uploads/2019/09/logo_fic.svg
Sarah Kondratowicz
2020-04-28 11:35:14
2020-04-28 11:35:15
gleem – a food startup with its own production kitchen