How vegan fish meat will soon be on everyone's lips
Jacek Prus is a co-founder of Kuleana; a food startup wanting to bring vegan fish to our plates. He has been fighting the battle for a more sustainable use of the limited resource from the sea. Early on, he was actively committed to the environment and animal welfare and co-founded the two companies Proveg Inkubator and Kuleana. We are very pleased, that Jacek will be a guest on our Food Innovation Camp stage. But until then, he will be sharing the difficulties and special details on the way to their first product by Kuleana with us.
Thank you for taking the time to do the interview! First of all, please introduce yourself.
Thanks for having me! I'm Jacek Prus, Co-Founder and CEO of Kuleana. Before my work at Kuleana I co-founded the ProVeg Incubator, the world's first of its type to focus exclusively on animal alternatives. Before that endeavor I received an MBA in entrepreneurship.
Plant-based chicken or pork is already on everyone's lips at the moment, but very few people know about fish. How is your product made and what is the difference in the production process compared to other types of this meat?
Well I cannot speak for every production method, yet many meat analogues rely on an extrusion process to create texture. In comparison our production process is quite simple. All we need is a few pieces of equipment you can find in most commercial kitchens. This allows us to produce in many geographies with relatively minimal capital expenditures.
Your startup name means "responsibility". Why did you choose exactly this meaning and how do you live up to this promise?
Funny story about the name it was actually my ex-girlfriend, who proposed the name, so credit goes to her. She thought it had a nice sound to it and reflected what motivated the start of the company. We live up to the promise by replacing fish with something more sustainable. Our first product is the Bluefin Tuna, more precisely, the Akami Tuna Sashimi made of it.
How was the consumers and trades response to your first product Akami Tuna Sashimi and what were the difficulties, you had to face and overcome?
We plan to launch our product within the next two months in Berlin with our restaurant chain partner and are also currently speaking with several distributors for a more global play. So far the feedback we've gotten is that our texture is truly incredible, like nothing on the market. This product has been incredibly challenging, we believe nobody has created a fully functioning raw tuna replacement yet so we see ourselves truly innovating.
Which changes have you been able to notice in the last few years in the field of plant-based meat?
First of all the acceptance and demand for plant-based meats has skyrocketed. We've seen this in the United States with Beyond Meat and Impossible Foods expansions across fast food chains and the famous IPO. Now this trend has carried into the European and Asian markets as well. More and more companies are emerging for the challenge and corporates are also getting involved in the game. During my time at the ProVeg Incubator I had the fortune to attend and speak at many food conferences across the world. There were two trends that were ubiquitous across these events, plant-based foods and clean label. There has never been a better time to enter the space.
Which successes have you personally and with your startup Kuleana already achieved and what are the goals for the future?
I think our biggest success is how far we've come in developing such a challenging product. It took a lot of work, many different approaches and there were always easier products we could pursued. Yet we held out and developed something truly new; We're pretty proud of that. We also have had the ability to do this of minimal funding, while working other jobs. So the team has really pulled through. Once we close our financing round we will move even faster. The goals for the future are to expand across Europe, starting first with Germany and Spain, and then move into the United States and eventually Japan. We also look forward to developing and commercializing our texturization platform which we believe will improve meat analogues across the industry.
Picture: Kuleanas Team (Kuleana)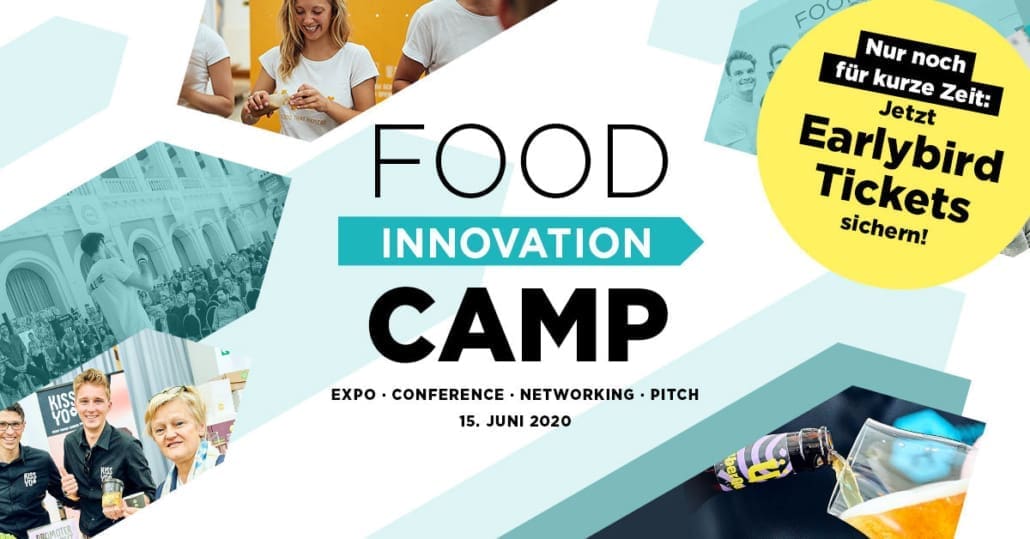 Meet Jacek at the food camp
On 15 June the Food Innovation Camp will take place for the 4th time. As a meeting place for the sustainable food and beauty scene, the camp offers up to 1500 trade visitors space for inspiration, targeted networking and business. Top decision-makers from the retail, catering, investment and political sectors will be meeting over 85 innovative food and beauty startups. Visitors will be able to gain exciting industry insights at the conference and watch over 30 startup pitches on the pitch stage.
https://foodinnovationcamp.de/wp-content/uploads/2020/02/Bildschirmfoto-2020-02-26-um-12.38.19.png
778
1768
Sarah Kondratowicz
https://foodinnovationcamp.de/wp-content/uploads/2019/09/logo_fic.svg
Sarah Kondratowicz
2020-02-28 11:33:46
2020-02-28 11:33:46
How vegan fish meat will soon be on everyone's lips