Innocent Meat wants to turn the meat market upside down
Not only Silicon Valley or Israel, but also Rostock is currently the scene of a development, that could revolutionise our meat consumption. The startup Innocent Meat is in the process of developing clean meat, which is bred from animal cells in the laboratory. Co-founder Laura Gertenbach talks to us about how innocent Innocent Meat really is and which path she has already taken for her vision.
Thanks for taking time out of your busy schedule for this interview! Please feel free to introduce yourself first.
I'd be glad to! My name is Laura Gertenbach, I am 36 years old and I come from Rostock. Early on I had contact with agriculture, as my parents are working in this sector. That's probably where my love for good food and especially for good meat comes from. Thanks to my studies in business administration and IT, I had the basis to make this passion to my profession and to co-found the startups Oberlecker and Innocent Meat, among others.
Before you started with Innocent Meat, you had founded the startup Oberlecker, which sells high quality organic meat. Today you produce clean meat. How did this step happen?
It wasn't a leap from my point of view. In both cases the main issue is sustainability. Oberlecker serves a niche and will continue to do so. We have to address meat lovers directly in order to make a lasting difference. This is precisely why celluar agriculture is a good opportunity for agriculture to develop further. Farmland in the EU is limited and the demand for meat from abroad is growing in line with global population growth. From this perspective, it is important for farmers to protect the climate and produce affordable and safe food. Clean meat, which Innocent Meat is developing, is also organic meat – but produced smarter.
You follow, according to your website, the statement of scientists that meat, as it is produced today, won't have a future. Please explain this statement in more detail.
The advantages of clean meat are clear and cannot be denied. For example, it requires less space: An incubator, in contrast to a cattle group, needs only 6 square meters of floor space. In addition, significantly fewer resources are needed to produce 1 kg of meat and the emission of climate-damaging gases is reduced, too. Clean meat also provides a benefit for the health of humans. Nutritional values such as fat patterns can be controlled. This is very complicated or almost impossible in current livestock farming.
How will you produce your clean meat?
First of all, muscle fibres are taken from the selected animal, in our case the cattle. In the next step, the stem cells are isolated from these and joined together with a plant serum on a Petri dish. This serum is essential for the growth of the meat. Under the right conditions, new muscle tissue, i.e. meat, develops from these components after some time. Through the last step, the requested form of clean meat is produced from this.
As the first German startup in the area of clean meat, there were surely some barriers to overcome. What are those and how do you plan to tackle them?
One of the biggest challenges is the financing. It is very difficult in Europe to get financing on this level for a particular idea. Especially if you don't have a technical concept yet. Therefore we have built on existing feedback and worked out our technical concept for the production process. We are now in the starting blocks.
Innocent Meat points out, that they want to involve the farmers, in order to prevent them from suffering too much disadvantage. How do you plan to implement this?
For the cell nutrient medium plant ingredients are needed. These resources must be grown on a large scale and a farmer is also a businessman, who grows what is in demand. However, it should be kept in mind that the ingredients are likely to be produced by fermentation later in the process, so one is not necessarily dependent on agriculture.
Right now you are looking for investors. How much success have you already had and how do you plan to use the money?
Currently we have some interested parties and are already having good discussions. But we are still open to expanding our network. With the financial resources we want to prove the feasibility of our manufacturing process experimentally.
Thank you for the interview!
Feature photo: Laura Gertenbach at the Farm & Food 4.0 in January in Berlin.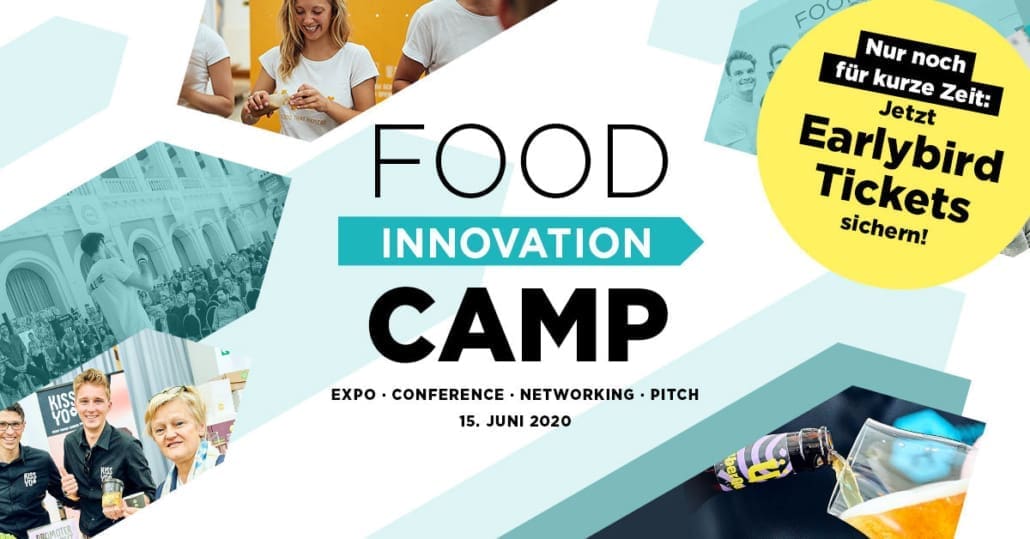 Meet Laura at the Food Innovation Camp
On June 15th the Food Innovation Camp will take place for the 4th time. As a meeting place for the sustainable food and beauty industry, the camp offers up to 1,500 trade visitors space for inspiration, targeted networking and business. Top decision makers from retail, gastronomy, investment and politics will meet over 85 innovative food and beauty startups, experience exciting industry insights at the conference and can follow over 30 startup pitches on the pitch stage.
https://foodinnovationcamp.de/wp-content/uploads/2020/01/Farm_Food-7-e1583230801459.jpg
405
990
Sarah Kondratowicz
https://foodinnovationcamp.de/wp-content/uploads/2019/09/logo_fic.svg
Sarah Kondratowicz
2020-03-05 13:18:13
2020-03-05 13:18:13
Innocent Meat wants to turn the meat market upside down