Kombucha has become an established feature on German supermarket shelves and enjoys great popularity. However, the drink is not associated with luxury. Louise Benkjær Limbach has given the sparkling tea a new twist and transformed it into a sparkling low-alcoholic drink. Today she tells us more about her idea and why she is convinced, that København Kombucha will be a great success in her home country Denmark and in Germany as well.
Hello Louise! Please introduce your startup and yourself first!
København Kombucha is a hand-crafted, sparkling, vinous experience which gives a moment of enjoyment equally to wine and other sparkling alternatives. The idea behind København Kombucha is that everyone should be able to enjoy special moments with less alcohol. København Kombucha is a small 1 year old family business primarily run by me. I like to enjoy good food and good company, but found that even though people have started being more concerned about their health, very few good alternatives to sparkling wines with low-alcohol were found. The idea slowly developed to use kombucha as this alternative. With the right strong processes in place, a perfect tasting kombucha was created and the customers were quickly very supportive about the product.
Why did you found København Kombucha and how did you get the idea to change Kombucha in this way?
Kombucha is in reality a very sophisticated drink, which naturally develops great vinous taste and delicious bobbles, if it is cared for in the right way.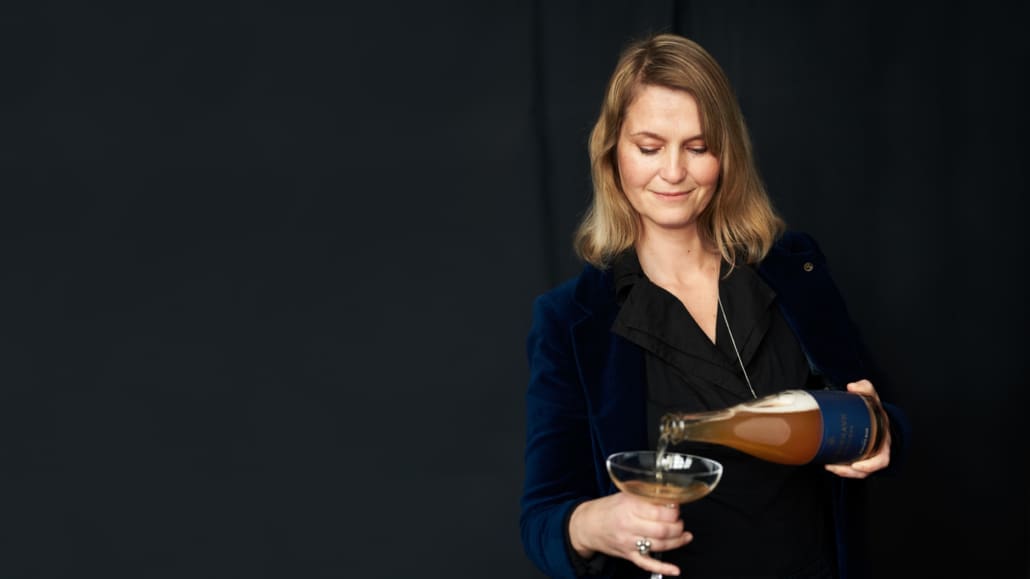 How did you find out, that there is such a high demand for non-alcoholic drinks?
I saw some tendencies with a significant focus on health. Everybody knows that it is not that healthy to drink a lot of alcohol. Therefore it is also becoming more socially acceptable to ask for drinks without alcohol. The market need nice alternatives for everybody to be able to join in and not feel left out of the party.
You are selling your kombucha in fancy bottles. Why did you decide on this type of packaging?
It is a luxury product which develops natural delicious bobbles in bottles if cared for in the right way. The bottles stands for party and together-ness. It is meant to be shared with family, friends or when you are at a party and do not feel like drinking alcohol, but still do not want to be left out-side the party.
How is your sparkling kombucha made?
Kombucha is in reality a fermented tea, which means sugary tea left to ferment and in our case the fermentation starts when the starter culture is added. Then the product is left to ferment for a few weeks until the right taste has developed. The delicious liquid is now added to bottles to make sure that the bobbles will develop. To stop a continued fermentation then the bottles are kept cool.
What is the reaction of your customers to your products and who are your customers?
Customer are very surprised that it does not taste sour, but actually is an enjoyable drink to be served for guests. Kombucha is known for its health benefits and therefore have often been drunk as such (might have been very sour) and not as a pleasure-drink.
There are many different types of customers, but often it is for some kind of celebration or just for a nice drink on the terrace with your partner after work. Alcohol is not always needed when you have a great alternative. In many cases, when the customer tries to drink it they understand right away where they can use it. E.g. many elder like to use it for ladies lunches.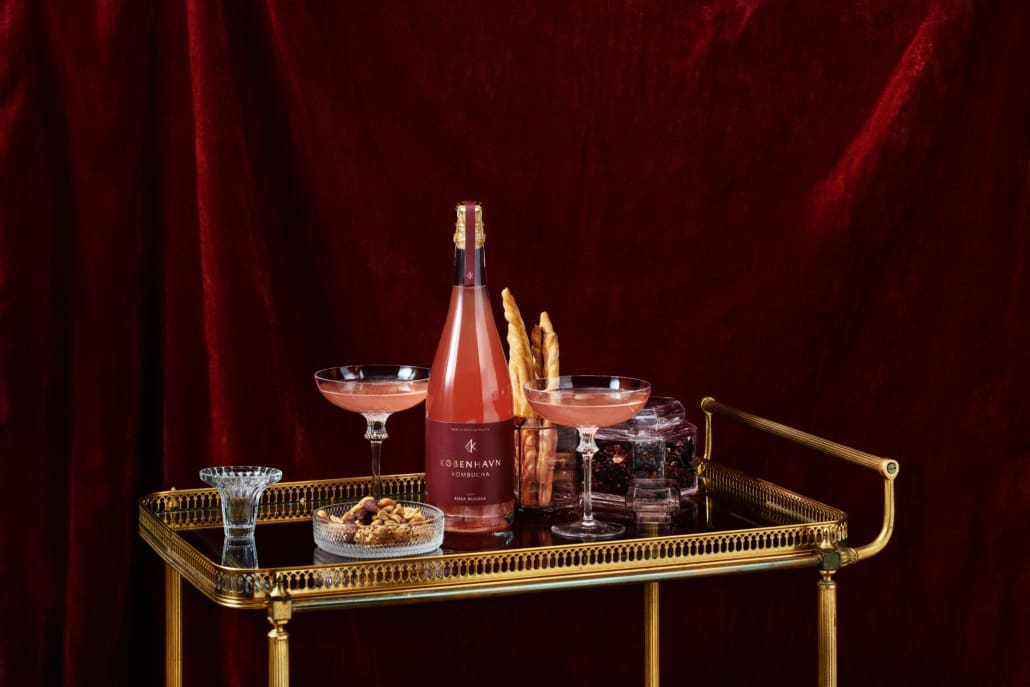 The Germans, like the Danes, also like to celebrate. But only a few of them are willing to do without alcohol. How would København Kombucha like to convince this target group?
København Kombucha is for everybody to be able to join the party. Over the last few years the market for non-alcoholic alternatives has become very popular and it is not always that the product has a nice taste. København Kombucha has developed a taste to include everybody to join the fun. The sparkling kombucha can be served as an alternative to champagne or sparkling wine for the designated drivers or people that do not wish to drink due to sport activites the day after, having smaller children, elder people and so on.
Why did you choose Germany as a new market?
Germany would be a natural next step for København Kombucha, since the name kombucha was actually invented in Germany. Today, there are also still sold a soda-like version of kombucha, so many people have an idea about the name kombucha. Hopefully, they are open and will be delighted to see it come back in a complete different more luxury version.
The startup life in Germany and Denmark differs in some points. What did you notice in particular?
I have not , yet, been very exposed to the start-up life in Germany, however, in Denmark it is a very energetic and inspiring startup scene, where everybody is ready to share ideas and to help each other grow their business. Many people also do co-labs, which is very interesting. I assume that Germany also have many interesting startups with great ideas.
What is København Kombucha especially proud of?
For the København Kombucha version called Hidcote Blue (lavendel), we won the national product price award 2019 for drinks. This was a great milestone that helped us to get really into the marked and get quite a lot of attention on the product.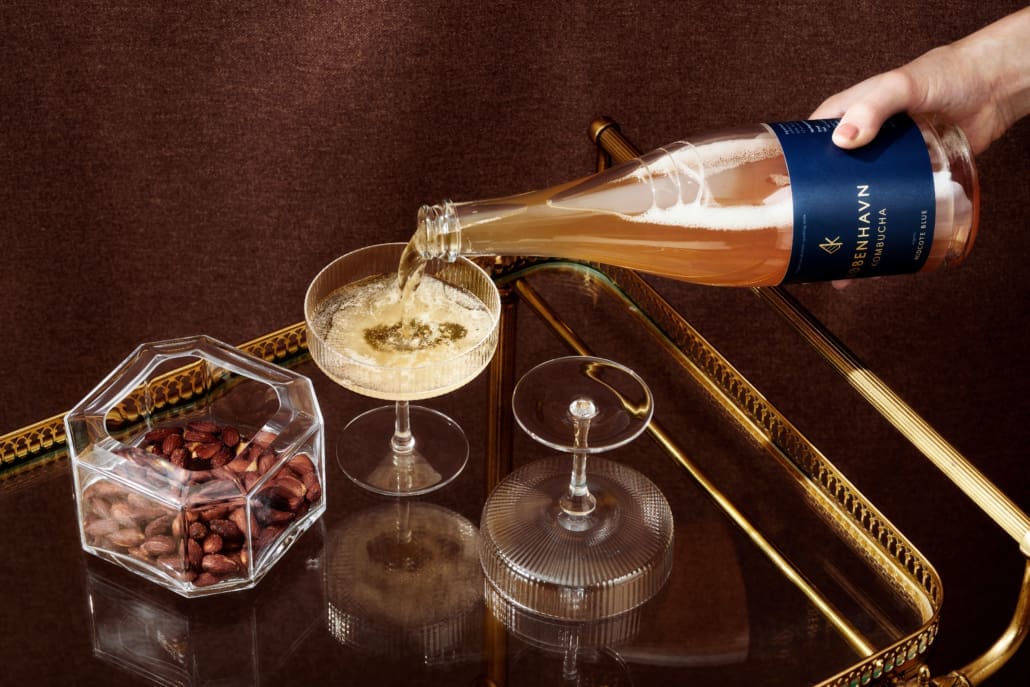 What difficulties did you have to overcome on your way?
The toughest part has been the whole startup process from the creation of the product to finding a good place to produce with the right approvals in place. It has been quite a journey until now where the next big challenge is the scaling-up and reaching out of Denmark. And again the most important thing for København Kombucha is to keep a natural product that has the perfect taste. Always.
What are your goals and plans for the future?
The first plans are to scale-up and to make the product ready for export. Where the first market would be Germany. A key focus for København Kombucha is the make sure that the production is sustainable. The product is already biological and the whole process needs to be kept as pure as possible.
Thank you for the interview, dear Louise!
Featured picture: København Kombucha
https://foodinnovationcamp.de/wp-content/uploads/2020/06/KBH_KOMBUCHA7687-scaled.jpg
1707
2560
Sarah Kondratowicz
https://foodinnovationcamp.de/wp-content/uploads/2019/09/logo_fic.svg
Sarah Kondratowicz
2020-07-27 12:36:33
2020-07-30 10:14:03
Kombucha with a twist!