Kopp nature: From a school internship to a successful company
While others his age are still going to school, he is already running his own food startup. At 18, Jona Kopp, the founder of Kopp nature, has already achieved a lot and still has a lot to do.
At the age of 13, Jona Kopp began to explore the topic of marketing. Sure, he also played the soccer simulation game FIFA, but gaining marketing know-how was the hobby, that interested him the most. So when he attended the Witten Vocational College at 16 to take his vocational baccalaureate, he already had plenty of prior knowledge. Accordingly, he could actually choose the place for the obligatory internship, which takes three days a week; several companies were interested in him. But there was no money to be earned, so he opted for a different model.
The startup foundation as a school internship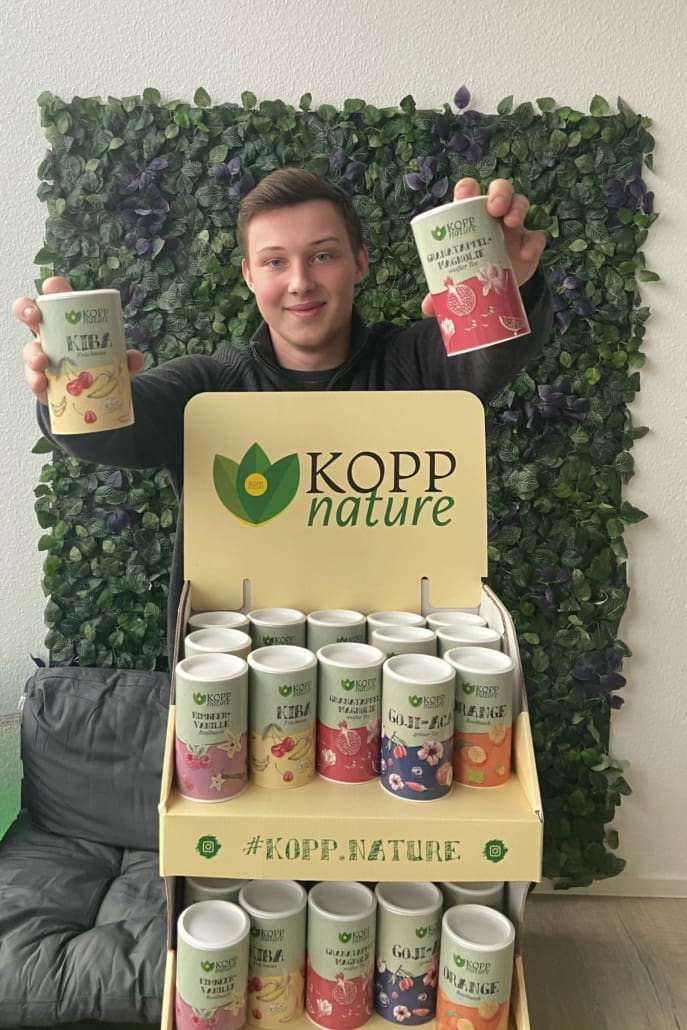 He started his internship at his father's IT company in order to found his own startup. However, his focus was neither on software nor hardware, but on food. Under the brand name Kopp nature, Jona first sold spices, but has since specialized in tea blends. He bottled the first portions in grandma's cellar and sold them at the Christmas market. Since January 2020, Kopp nature has had its own online store. As startup capital, Jona only had about 2,000 euros at his disposal, which is why he could only produce small quantities at the beginning. Fortunately, he found a supplier who generously helped him out.
When business picked up, he bought a machine to fill the tea cans. This is now done by an external service provider. Jona dropped out of high school and Kopp nature has become a full-time job for him. And not just for him: The team is growing all the time, especially in the areas of marketing and sales. That's why Kopp nature now has its own office in Bochum. Jona compares the corporate culture there to a coworking space. There are neither fixed workstations nor fixed working hours and no strict hierarchies. The main thing is to get the tasks done as planned.
There is plenty to do in any case, because the young entrepreneur is focusing on growth. Jona was able to get a listing in some Edeka stores early on and an increased presence in food retailing is one of his priorities. He achieves brand awareness through social media and influencer campaigns. He currently has five tea varieties on offer, always with fruity accents. And that's not all: For the summer season, for example, he's thinking about an iced tea.
Very big plans ahead for Kopp nature
For the future, Jona is thinking in very big categories. The first step is to officially establish the company, which is currently still being run through his father. The plan is for it to become a limited liability company or even an AG. His father has only a limited influence on his sons business, but he serves as an entrepreneurial role model and is on hand to offer advice and support. Financial security is provided by a credit model agreed with a bank. In the medium term, an external investor would also be interesting. But now to the big plans at last:
When asked, where he sees himself and his company in five years, Jona answers: with 500 to 800 employees and 30 of his own stores, including a food service area. He would also like to be an event sponsor and found other companies. How realistic all this is remains to be seen and there will certainly be some setbacks for the founder. Yet what he has achieved so far is remarkable enough. After all, he is only 18 years old.
All Pictures: Kopp nature
https://foodinnovationcamp.de/wp-content/uploads/2021/01/Kopp_nature-Beitragsbild-scaled.jpg
1673
2560
Sarah Kondratowicz
https://foodinnovationcamp.de/wp-content/uploads/2019/09/logo_fic.svg
Sarah Kondratowicz
2021-01-19 15:37:20
2021-06-28 23:39:39
Kopp nature: From a school internship to a successful company