Among the major future issues, agriculture has recently become more and more the focus of attention. It is facing great challenges and changes, as well as the entire food industry. The Farm & Food 4.0 congress in Berlin this week offered an overview of the latest developments and hottest topics. We attended and summarize our impressions.
Anyone expecting a proper agricultural fair with tractors and bulls in spacious exhibition halls had come to the wrong place at Farm & Food. Already the suffix "4.0", which was reminding of a software update, made that clear. The focus was mainly on modern technologies. The organizer, the Deutsche Bauernverlag, described the event as a "congress on innovation and digitalization in the agricultural and food sector".
Farm & Food 4.0 attracted over 500 visitors
The concept was a hit; over 500 participants had gathered at the Berlin Congress Center at the Alexanderplatz. They experienced discussion forums in which a variety of topics and positions were addressed. Is the evaluation of more data in agriculture the right way? Or is perhaps even a return to tried and tested methods the better alternative? How can consumer confidence in agricultural products be increased and a stronger identification with them be achieved?
Julia Dalmadi and Marie Populus hope to have found an answer. With SuperCoop, hey want to open a cooperative supermarket in Berlin. The members pay a one-time fee and commit themselves to three hours of work per month for the cooperative. In return they can have a voice in the management and creation of the product range. Among other things, the aim is to work primarily with local producers and ensure the greatest possible transparency. At the same time, the offer should be affordable for everyone, which is why organic is not obligatory. It remains to be seen whether this concept will be effective in a city like Berlin with an oversupply of supermarkets. Successful role models from New York and Berlin at least give us courage.
The hot topic of genetic engineering
While acceptance for a new supermarket solution is certainly not a problem, the situation is quite different with genetic engineering. At least in Germany and large parts of Europe, genetically modified food is largely rejected. Even the definition of genetically modified organisms (GMOs) is controversial. A decision of the European Court of Justice from 2018 clearly shows this. According to this decision, plants that have been produced using the CRISPR/Cas method, have to be labelled accordingly. In this procedure, the genome is modified minimally and no genetic material from other species is used. This is usually the case with genetic manipulation.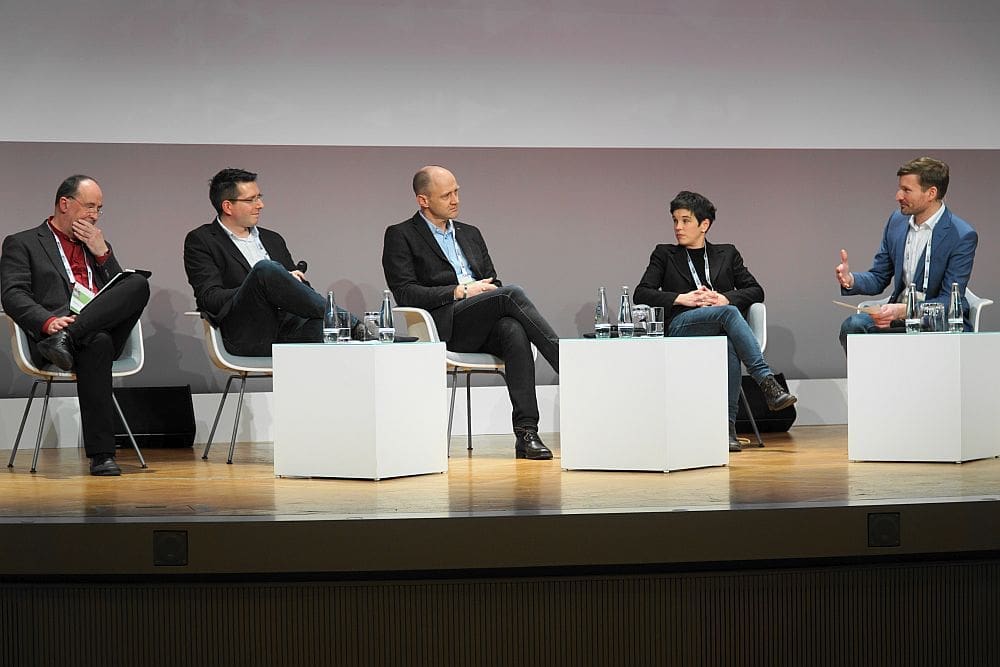 Dr. Markus Nießen from the biotech company KWS SAAT highlighted at Farm & Food, that the method, also known as genome editing, is just another tool for plant breeding. It would deliver similar results to natural breeding by crossbreeding and selection, but faster and more targeted. The result would be plants, that could cope better with changing environmental conditions and require fewer pesticides. Gunter Backes, from the University of Kassel, represented the view of the sceptics. He called for an orientation towards ecological agriculture and away from industrial production. With reference to GMOs he pointed out, that the questions of environmental compatibility and patent and property rights had not been sufficiently clarified. There is therefore still a great need for education and research on this controversial topic.
Is meat from laboratories the future?
The artificial production of animal proteins has nothing to do with genetic engineering. Nevertheless, it does have to struggle with image problems as well. That can be seen from terms such as "laboratory meat" or "in-vitro meat". The word "clean meat" is much more appealing. Of course, a name is only a secondary matter. The challenges and opportunities arising from the technology are much more important. The breeding of farm animals, especially beef cattle, consumes a lot of space and resources and has an extremely negative CO2 balance. It is no surprise, that many startups and established companies are looking for alternatives, represented at Food & Farm by Brian Spears (New Age Meats) and Laura Gertenbach (Innocent Meat) as well as Marcus Keitzer (Wiesenhof).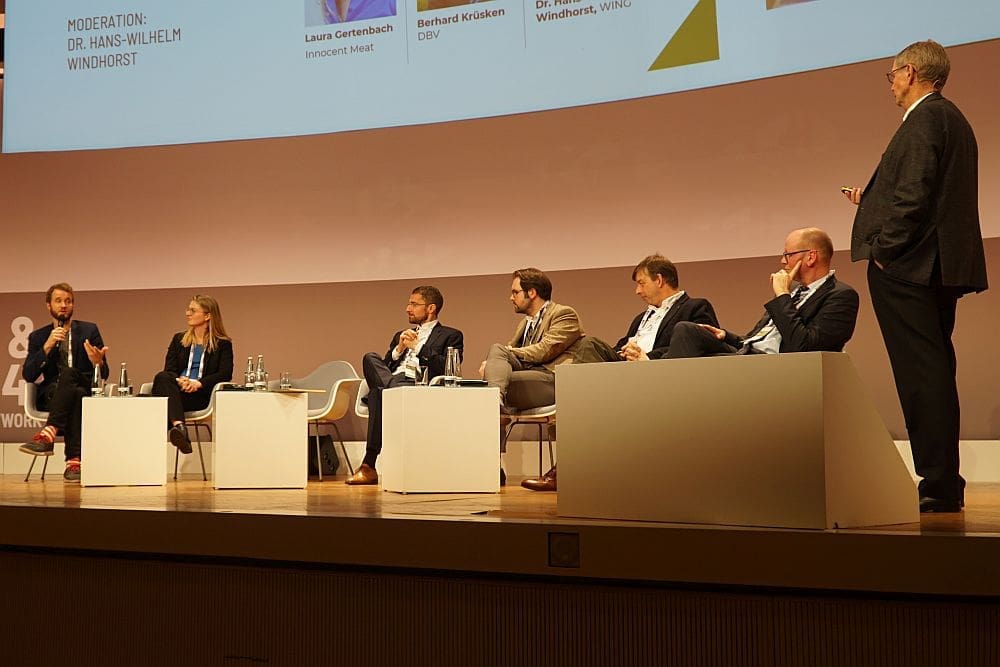 Up to now, it has not been possible to produce meat from cell cultures in large enough amounts and at fair market prices. However, Brian Spears announced, that he will be able to offer pork from the laboratory as early as next year. Even if that works; whether it will be available in Europe is a completely different story. One problem could be the novel food regulation, which has set strict rules for the introduction of new foods. The vegan egg substitute Just Egg, for example, is still waiting for approval. It is already a huge success in the USA and other countries,
To be continued at Food Innovation Camp!
To further increase the acceptance of protein alternatives in Germany, the BALpro association was recently founded. Fabio Ziemssen, one of the initiators and onstage at Farm & Food, explained to us in an interview:
"Our aim is not to push the topic forward by an ideologically led discussion, but to view and shape it purely in terms of innovation, future and technology. We are therefore in favour of technologies and alternatives, that can supplement and improve the existing system".
The topic will also be discussed at the Food Innovation Camp on June 15th and Fabio is going to attend. The best thing to do is to get your ticket now!
https://foodinnovationcamp.de/wp-content/uploads/2020/01/Farm_Food-10.jpg
667
1000
Sarah Kondratowicz
https://foodinnovationcamp.de/wp-content/uploads/2019/09/logo_fic.svg
Sarah Kondratowicz
2020-01-27 14:33:00
2020-02-14 14:34:21
Some impressions from the Farm & Food 4.0 in Berlin