The eight hottest startups for vegan alternative food
More and more people are choosing the vegan or vegetarian lifestyle. They want to make a difference for their health, animal welfare and the environment. However, for many of them the main difficulty is that they do not want to miss out on cheese or a juicy burger. In 2020, however, this will no longer be an issue. Many startups are looking at this specific problem in order to offer the market numerous alternatives. These are so close to the original products, that the difference is often difficult to taste. The ingredients of the vegan cheese or the vegetable meat vary from mushrooms to peas or soya. We've compiled the eight coolest startups for vegan alternatives for you here.
Impossible Foods
In 2009, Stanford University professor Dr. Patrick O. Brown decided to do something about climate change himself. The food industry in particular was close to his heart. Seven years after his decision the Impossible Burger was launched. Today, in California over 550 employees are working to develop and expand his idea in order to get a little closer to his dream.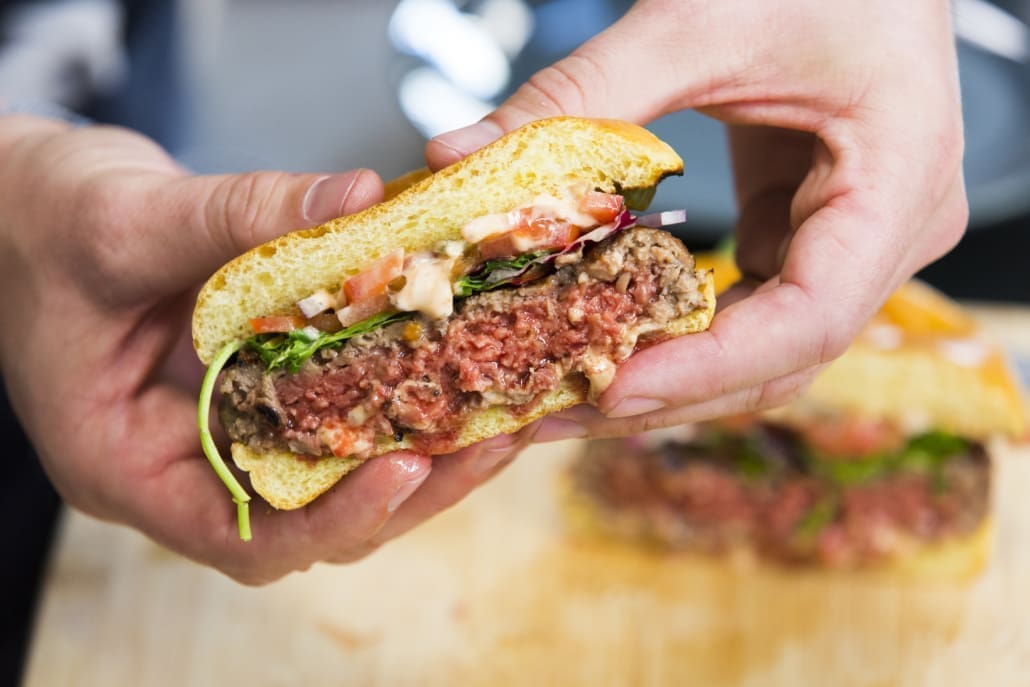 Through years of research, the Impossible Foods team has discovered, that the molecule heme is what gives the meat its unique taste. The research team was able to develop this taste by fermenting yeast in a plant-based way and use it as the basis for their products. This imitation is so successful, that the burger is now sold in numerous restaurants in the USA, Hong Kong and Singapore as well as in some supermarkets in the USA. In January 2020 another product was launched on the market, which immediately found a great interest: The Impossible Sausage is sold in 139 branches of the American Burger King and one can be curious if the Impossible Pork, which will also be launched this year, will be equally popular.
Beyond Meat
Anyone who has spent the last few months checking out the media has not been able to avoid this startup. Beyond Meat has made its way into German supermarkets with its burgers and caused a huge wave of interest. In total, their products are available in over 35,000 shops.
In order to fulfil its four missions, which focus on the major issues of the modern world – public health, climate change, the use of natural resources and animal welfare – Beyond Meat has broken down the medium of meat into its components and sourced them from plant sources. For example, proteins can be found in beans and brown rice, fats in vegetable oils, minerals in salts and carbohydrates in potato flour. Other ingredients are water and natural flavours as well as colours to copy the animal meat. Apart from the Beyond Burger, the startup also offers vegan versions of beef, sausages and minced meat.
Ojah
Just a step away in our neighbouring country, the Netherlands, meat alternatives are produced in regional production from plant proteins. The ingredients in particular are special, because Plenti, the product of the startup company Ojah, consists of only two components: Water and flour, which is obtained from soya proteins. These ingredients are mixed under high temperatures and pressure and then processed into a meat-like texture using a special combination of friction and shredding. This process allows Ojah to change the juiciness, shape and texture at will, so that the range of varieties is wide. For example, chicken, beef, pork or fish are among the possibilities. In addition to the large selection, Ojah also counts its numerous partners among the factors of its success.
Heura
Since 2013 it has been clear to the startup company Heura, that something has to happen when dealing with chickens. Its mission is to save 1,100,000 animals from the slaughterhouse in 2020. Studies predict a 70% increase in the consumption of animal proteins by 2050. Chicken in particular is becoming increasingly popular worldwide. For this very reason, Heura has started to replace chicken meat with plant-based alternative products. It took a total of two years of development before the product finally met their requirements.

Another advantage that results from the way the product is produced, is the use of resources. For the production process, for example, around 94% less water is required than for the same amount of veal. Another example: 1 kg of beef requires more than 20 kg of cereals and legumes, while 1 kg of Heura requires only 0.5 kg of soybeans. In the meantime, other types have been added to the range and the variety is growing continuously. Apart from chicken dishes, there are now also ready-to-serve meals made from vegetable beef and even vegan pizzas. So with the help of Heura, the next Netflix evening is well catered for!
Planted
Many people already know, that peas are not only healthy but also delicious. However, it is not yet well known, that pea proteins and fibres can also improve the world. Planted has taken advantage of the properties of these vegetables and, together with sunflower oil and water, has developed a vegan meat alternative. With the help of heat, pressure and a special way of tearing, the plant material is given the fibre structure of meat. The first product, planted.chicken, has hit the mark in its home country, Switzerland. It is already being served in some restaurants there and will soon even be found in Swiss supermarkets. Planted delivers its products within one day to all customers, who do not come from Switzerland. And to make sure you don't end up without any recipe ideas, the startup company has also published a cookbook.
Kuleana
In Berlin, the Kuleana team has committed itself to being able to eat sushi again without any guilt. They have chosen their name to go along with this, as it originates from Hawaiian and means "responsibility". The mission is to replace the animal ingredients of various types of sushi with plant-based alternatives. However in the process the typical taste or appearance should not have to be sacrificed under any circumstances.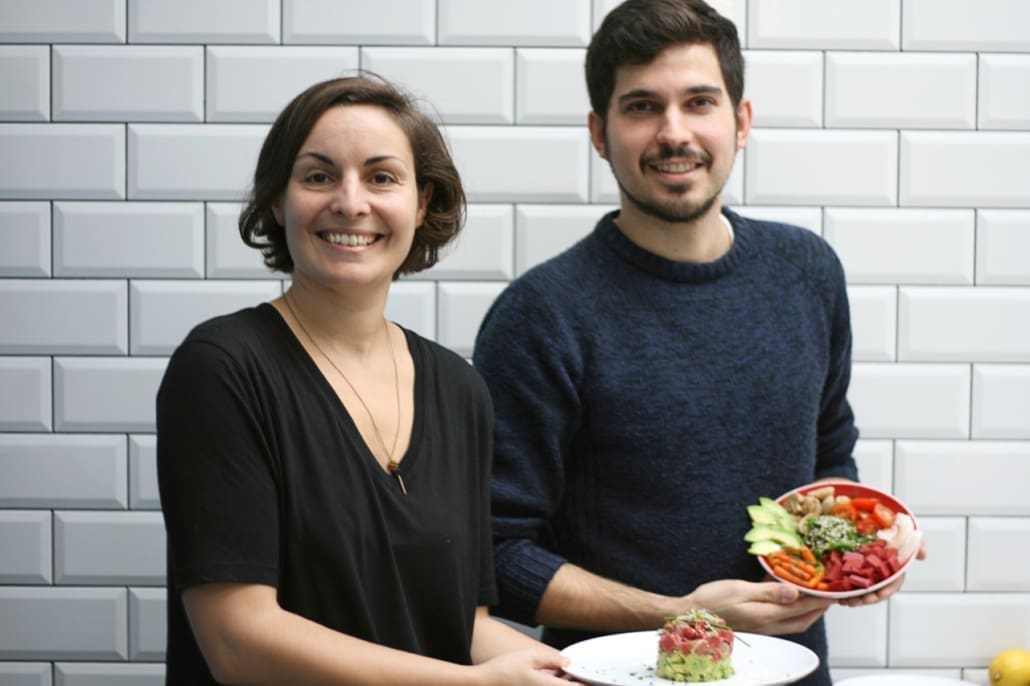 For the production Kuleana uses a mixture of algae and plant proteins, as the co-founder and CEO of Kuleana, Jacek Prus, tells us. To achieve this, the team is working on a biotechnological basis that will improve the texture of not only their products, but also those of other plant- and cell-based meat varieties. In the future, they want to give the next generation the opportunity to enjoy all kinds of fish and seafood without any pangs of conscience. Its journey began with the production of blue fin tuna, one of the most popular sushi fish. Kuleana offers as the first product the Akimi Tuna Sashimi, with which it already supplies some Berlin restaurants.
Mushlabs
In order to bring vegans and meat lovers together at one table, Mushlabs has used a well-proven ingredient, which can already be guessed by its name: the mushroom. After some time of research, the startup has managed to produce sustainable food from its roots, which also tastes delicious. The secret is hidden in the umami flavour, which gives meat its characteristic taste and is also present in mushrooms. With the final product, the customer can enjoy all the benefits of protein while avoiding harmful substances.  

In the production process, mycelia are extracted from the mushroom roots and afterwards cultivated. This is done by a fermentation process for which by-products of the agricultural and food industry are reused. The biomass, from which the end product is made, is then produced in the next step. However, Mushlabs is not settling for the existing range of known meat types. In the future, it wants to bring products and flavours to the market that do not yet exist. 
LegenDairy Foods
What is better than warm cheese, that can make any dish even more delicious? The LegenDairy Foods team thought the same way, not wanting to miss out on this dairy product despite environmental awareness and animal welfare. Together with the University of Graz, they succeeded in producing milk proteins from microorganisms. In the next step, LegenDairy Foods produces vegan dairy products from these proteins. This makes it possible to create completely new flavours or textures as well as lactose and allergen-free products.

The startup is currently in the development phase, the amount of protein powder produced so far is only sufficient for a relatively small mozzarella. However, the company plans to produce a larger mozzarella prototype as early as this year in order to be able to launch the first product on the market in 2022. Once this obstacle has been overcome, the company also plans to expand its product range to include products, that are more difficult to produce, such as milk or yoghurt. However, there is one bit of bad news for Europeans: it is still unclear, when the products will be available on the local market due to the strict regulations.
Picture on top: Beyond Meat at Food Innovation Camp 2019 (Foto: Stefan Groenveld)
https://foodinnovationcamp.de/wp-content/uploads/2020/01/fic2019_stefangroenveld_20190520_web_165.jpg
1365
2048
Sarah Kondratowicz
https://foodinnovationcamp.de/wp-content/uploads/2019/09/logo_fic.svg
Sarah Kondratowicz
2020-01-21 13:49:04
2020-01-21 14:33:56
The eight hottest startups for vegan alternative food