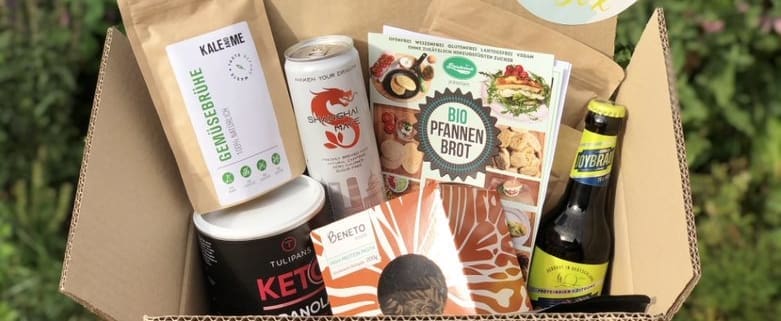 On September 17th the time has come again: Our online pitch goes into the second round with six new food startups. And you can not only watch them live, but also win a food box with the goodies of all candidates! What you can look forward to and how you can participate is revealed in this article.
How can I participate?
Until September 11th, 2020 you have the opportunity to participate in our competition and win a FIC Food Box, just like the members of our pitch jury get. All you have to do is register for the contest via this link:
Another chance to win a FIC box is offered by the public voting for the live pitch on September 17th from 5 pm. So it is doubly worthwhile to be present at the broadcast!
Click here for the privacy policy and conditions of participation.
What is in the Food Box?
Here, the six pitch participants will introduce themselves and their innovative delicacies. And we're also packing a quartet game from the Food Innovation Camp into the Food Box!
Breadonauts
Whether Burger Bun, Pita-Bag, Naan-Bread, Pizza, Wrap or simply breakfast bread. The Breadonauts Organic Pan Bread Baking Mix is an all-rounder and therefore versatile. It is low-salted, sugar- and gluten-free and can be modified according to taste and tolerance. Whether at home, with friends, when camping on the barbecue, in a mobile home or on a ship: with a pan you can quickly create a delicious bread.
Kale&Me
Kale&Me acts according to 3 principles; focus on regionality, highest product quality and a sustainable and responsible use of resources. We have been able to ensure regionality and quality with our own production. We have built a recycling system for packaging materials, our bottles are recycled and we plant trees for insects. Our new product group TasteBeforeWaste now focuses on food waste prevention.
Tulipans
This incredibly crispy KETO GRANOLA is made without any added sugar. Unlike other crunchy cereals, Tulipan does not use oat flakes, cereals or soya to make it, but instead uses coconut, nuts and seeds baked at a low temperature. The whole thing is rounded off with real vanilla. For breakfast, as a dessert or to nibble for in between. Taste does not need sugar.
SHANGHAI MATE
With SHANGHAI MATE you get the tangy fresh taste and effect of canned mate. SHANGHAI MATE is freshly brewed mate tea, sweetened calorie-free with stevia and sparkling carbon dioxide. SHANGHAI MATE is pure mate, with a high natural caffeine content (20mg/100ml), without additional flavorings or added fruit juices.
Beneto
Beneto develops, produces and distributes high protein food made from organic barbecue flour. The first product line, which we launched in May 2019, consists of Beneto's High Protein Pasta. This is a Fusilli that contains 40% protein – thanks to the sustainable protein source "cricket". Feasting pasta without regrets is now possible – thanks to Beneto. Get in shape with us and pasta.
JoyBräu
JoyBräu is the world's first functional beer brand. As passionate active lifestylists, we love beer and pay close attention to our health and the functionality of our food. Whether it is a boost for your immune system through vitamins or increased protein content for your muscle build-up – JoyBräu has the right non-alcoholic beer for you!
https://foodinnovationcamp.de/wp-content/uploads/2020/09/Box2.jpg
586
781
Sarah Kondratowicz
https://foodinnovationcamp.de/wp-content/uploads/2019/09/logo_fic.svg
Sarah Kondratowicz
2020-09-04 12:25:50
2020-09-04 12:37:20
We are giving away a FIC FOOD BOX again – participate now!