Hardly any other industry suffers as much from the corona crisis as the catering trade. If anyone should be able to take up the fight, it should be a food company called Kitchen Guerilla. And indeed, the team from Hamburg is involved in some rescue operations. A crowdfunding campaign has just started and the first convenience foods are already available in selected stores.
The food company Kitchen Guerilla, run by the brothers Koral and Onur Elci, is actually quite wide-ranging. Its work is based on four key pillars, according to its website: events, canteen, catering and content. Due to the Corona crisis, however, all areas, except content creation, have just collapsed. For events and catering, all orders are cancelled until the end of May, the loss of sales amounts to 240,000 euros. The canteen service has also been suspended, as customers like Facebook have almost completely switched over to home office.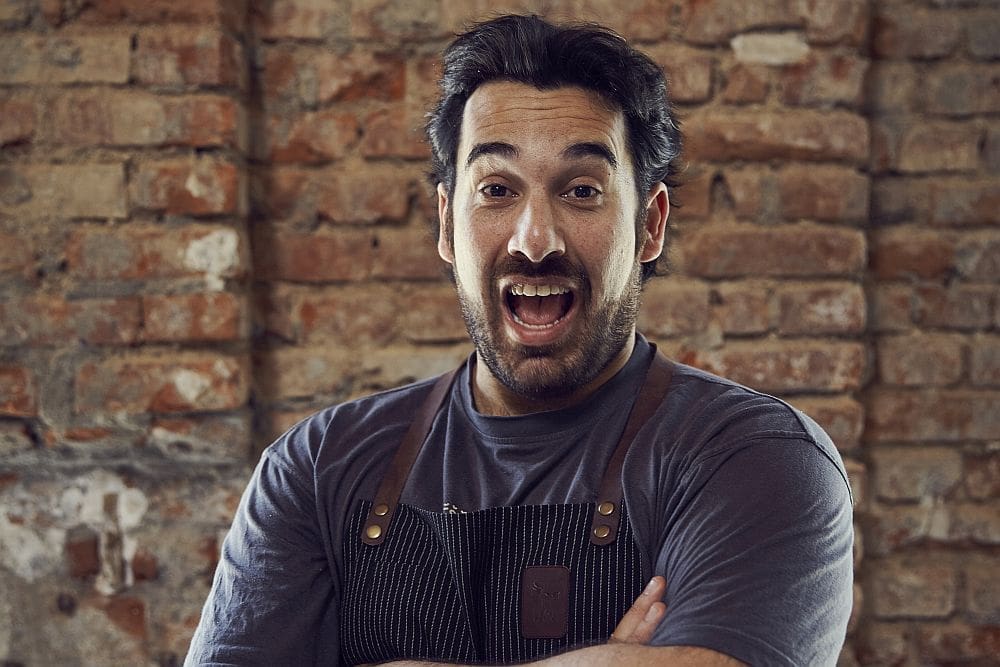 So a certain slowdown has arrived at Kitchen Guerilla, as Onur describes the current mood in an interview with us. But the term slowdown does not quite apply in view of the many campaigns, that the team of 30 people is currently starting. Concentration on the essentials is much closer to the point. There are short-time working regulations for some office jobs, but the cooking squad has plenty to do.
The #SoliKitchen of the Kitchen Guerilla
One reason for this is the initiative called #SoliKüche (which means "solidarity kitchen"). In the beginning there was the idea to cook meals for homeless and other needy people from stocks and with the support of helping customers. In the meantime, a small business model has developed from this. For seven euros, everyone can buy a food package including fresh fruit, which is then sent to an institution that takes care of further distribution. A part of the money stays with Kitchen Guerilla and helps to pay the salaries.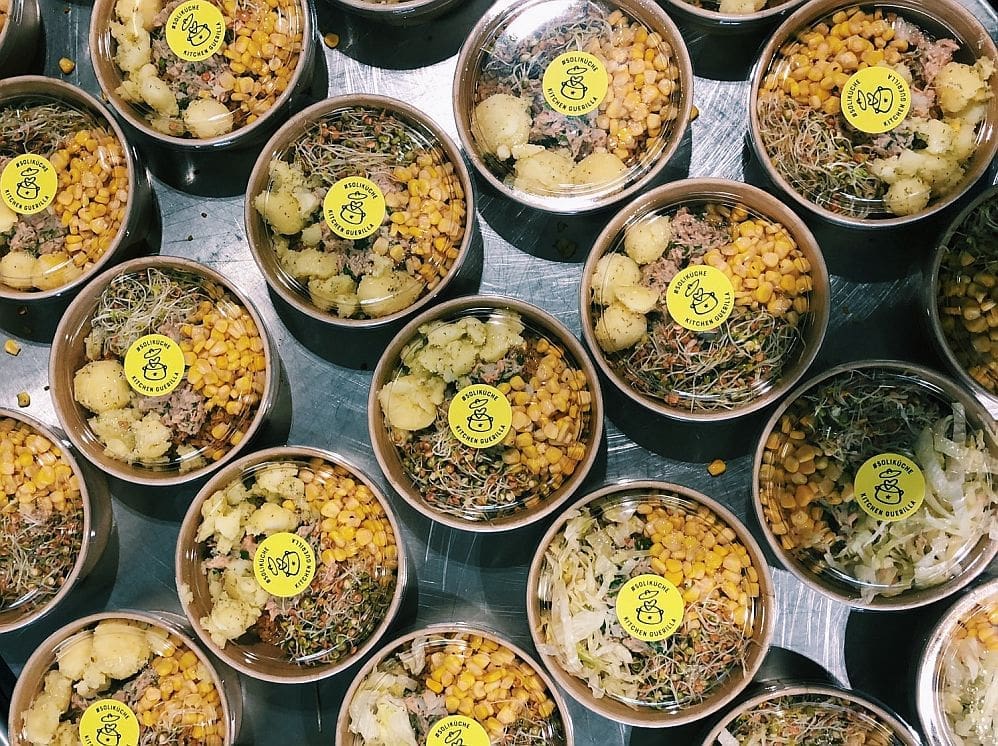 Over 4,000 portions have already been sold, and almost 1,500 are currently going to the people in need each week. They get better food than usual, unfortunately homeless people are often fed with low quality food. #SoliKüche is not the only campaign in which Kitchen Guerilla is involved. A similar intention has also #KochenFürHelden (cooking for heroes). The idea originated in Berlin and at the restaurant Tulus Lotrek. There they started to cook for people in so-called system relevant professions, for example doctors, nurses, supermarket cashiers or firefighters.
The crowdfunding campaign for heroes has started
A number of Hamburg's catering establishments picked up on the concept, including Kitchen Guerilla, Tim Mälzer's Bullerei, Salt & Silver, DIE GUTE BOTSCHAFT, Jellyfish and more – the list is constantly growing. They are supported by wholesalers like METRO and Transgourmet. So supplies are on hand, a Facebook post from Kochen für Helden – Hamburg even talked about the finest dishes such as "French pigeons, Barbarie ducks, fine cheeses, large crates of blood sausage and hundreds of kilos of whole yellowtail mackerel". Nevertheless, the campaign is of course also costing money, which is why a crowd-funding campaign has now been launched, as in other cities before, with the motto: Cooking for Heroes in Hamburg.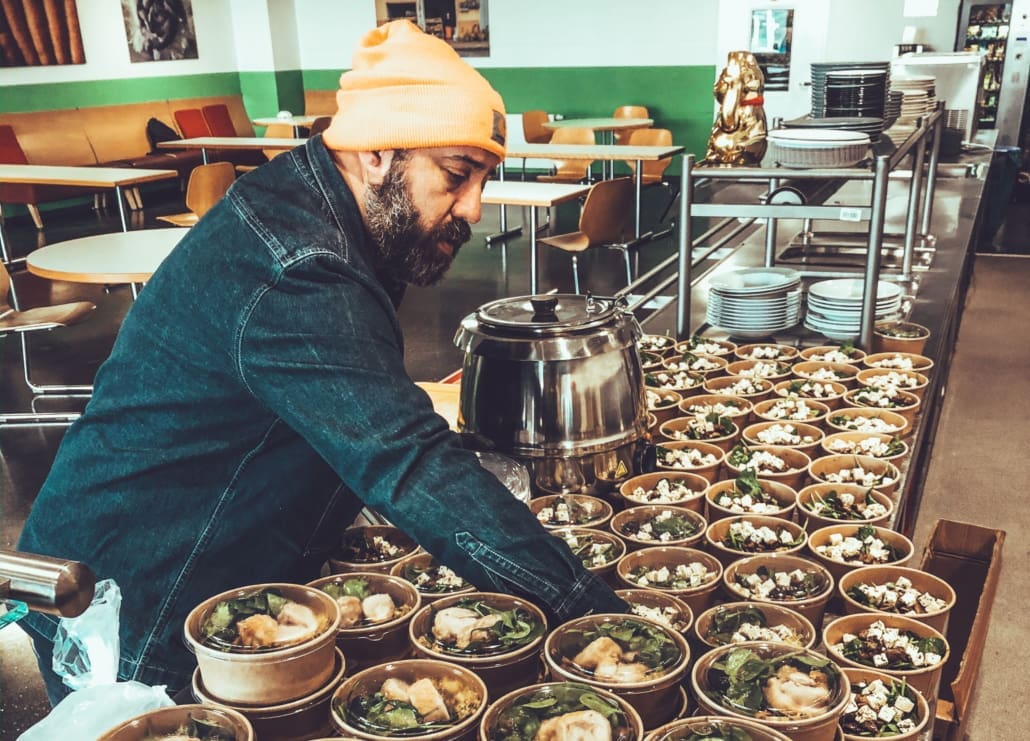 With such outstanding actions the gastronomy scene shows that they don't throw in the towel so quickly. And yet the situation is quite serious. It is still completely unclear how long restaurants in Germany will have to remain closed. For Austria it has just been announced that a new start is planned for mid-May. A similar or even later date here in Germany could mean the end for half of the restaurants in this country, Onur fears.
Some will not reopen at all, others will try for a few more months and realize, that they will not be able to make up for the lost revenues from the crisis months. They will not be able to reduce debts accumulated during this time, too. The decline in sales already started at the beginning of March, before the official restrictions were imposed. If now the whole of April breaks off, including the lucrative Easter business, this will endanger many existences.
A petition with clear demands to the politicians
Onur therefore believes that politicians have a duty to work harder to save gastronomic diversity. Kitchen Guerilla was one of the first signatories of an open letter to the city of Hamburg, which has since developed into a petition, addressed to the federal government. Over 80,000 people have signed it so far. Among the demands under the hashtag #wirsindbereit (we are ready) are full cost coverage of gross salaries instead of short-time work benefits, tax rebates and suspension of the obligation to file for insolvency until March 1st 2021.
For many restaurateurs, the current quick loans from the KfW are not a realistic option. On the one hand, this increases the debt burden that some companies are already carrying around with them. On the other hand, KfW in many cases covers at maximum 90 % of the risk of default. The remaining 10 % is paid by the house banks, which can therefore refuse a loan. There is now a special arrangement for companies with more than 10 employees, where KfW takes on the full risk. However, this is linked to a number of conditions, including proof of a recently generated profit.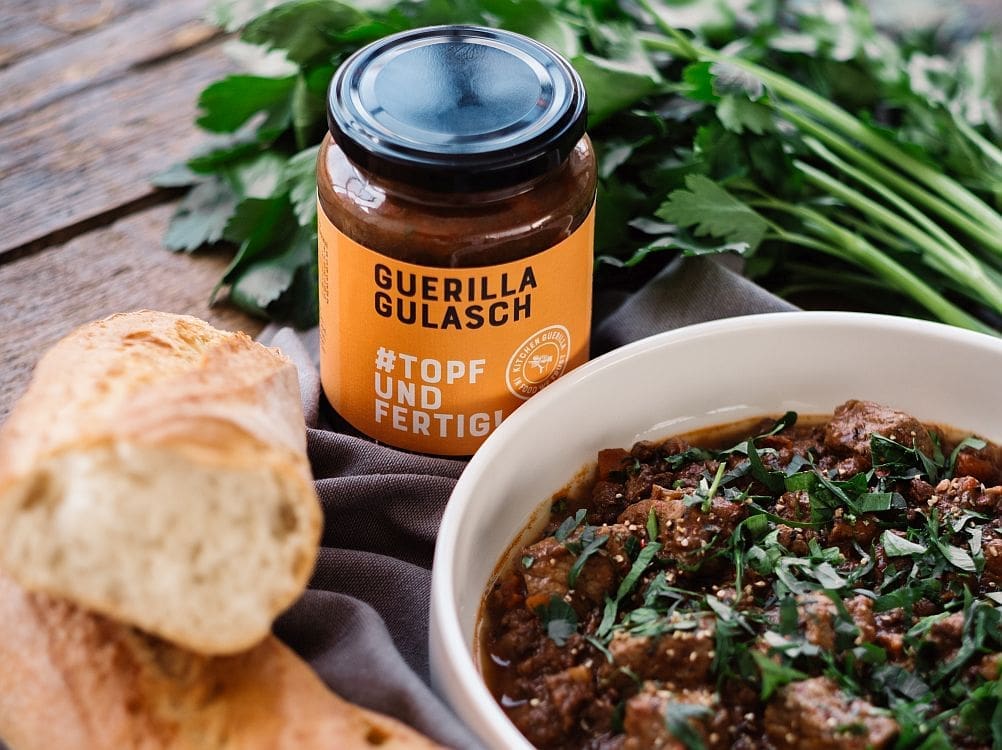 Kitchen Guerilla is determined to overcome the crisis as best as possible on its own. A new source of income is supposed to come from ready-made meals, which are sold through the Budnikowsky drugstore chain. In little more than two weeks, the team has developed eight dishes. It starts with goulash with chocolate and a kohlrabi mushroom fricassee on April 9th in 30 Hamburg stores. A portion in a glass costs 5.90 euros. Two new dishes will be available in each of the coming weeks, one with meat and a vegan one. And knowing the Kitchen Guerilla as we do, it certainly has a few other irons in the fire.
Featured Picture: Photo collage for the crowdfunding campaign "Cooking for Heroes in Hamburg".
https://foodinnovationcamp.de/wp-content/uploads/2020/04/Helden-Crowdfunding-visual.jpg
751
1500
Sarah Kondratowicz
https://foodinnovationcamp.de/wp-content/uploads/2019/09/logo_fic.svg
Sarah Kondratowicz
2020-04-14 16:07:19
2020-04-14 16:17:32
Kitchen Guerilla takes up the fight against the gastronomy crisis